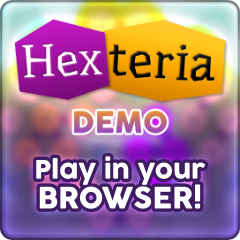 Hexteria is OUT NOW!
Hexteria is a casual but challenging Turn-Based Strategy and Puzzle game. The concept is simple: each turn you rotate one hexagonal tile on the board to take over your opponents' tiles.
Online and Offline Multiplayer for up to 6 players
Single Player Campaign with 42 levels
Use the Level Editor to create, share and play your own levels
AI controlled players with 4 difficulty levels
Unique challenges which will grant you 5 different powerups!
The game is available for Desktop (Win, Mac, Linux) on Steam! Ports for android/iOS are planned.